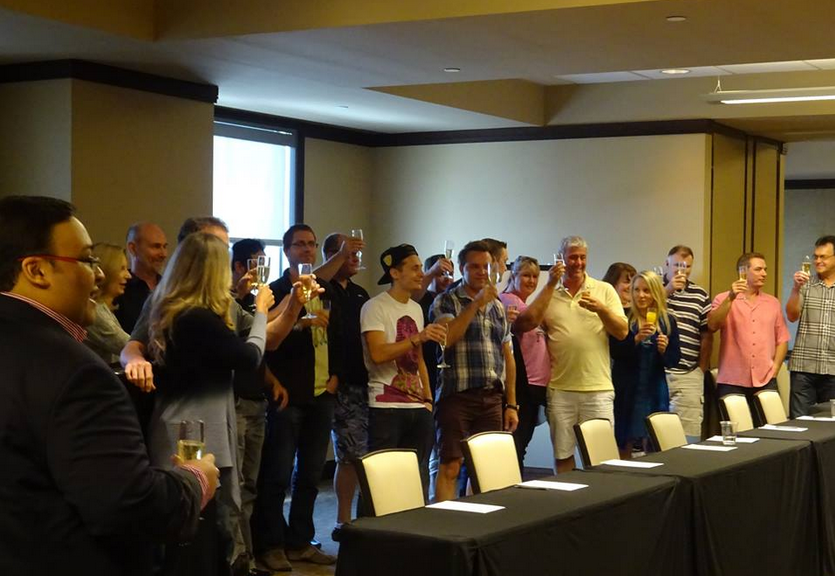 This was the second year we ran our Annual JV Mastermind. This year we had nearly 80 people attend from over 50 different businesses around the world.
Our keynote speaker was the wonderful Les Brown who very kindly flew in from Stuttgart to be with us. He and his son were only able to be with us for a few hours as they had to fly out to Japan to speak there.
However, Les was brilliant in the time he was with us, and had everyone laughing as the first speaker on day two of our event. It was clear to see why this very warm man is paid a fortune to speak all over the world. We were very touched and proud to have him give up his time to be with us.
There were stacks of other great speakers and guests too! We had the wonderful Bill Harris from Centerpointe, Glen Ledwell from Mind Movies, Bob Doyle, Karl Moore, Carl Harvey from The Big Life, Anik Singal from Profit Academy, Mark Donnan from Froggo, Jason Myers from CXO, Blair Gorman from Numerologist.com, Andrew & Paul from Greater Minds and quite frankly… too many to list. 
The event was the usual, work and fun type of event. We have a 3 day mastermind, followed by a day of rest, then a day on a boat trip and a party. Then one more day for any who wants to hang around and go out in the evening.
The event was supposed to end on the 7th day, but there were still about 20 people hanging around for another 3 or 4 days… A lot of things were learnt, new friends made and quite a lot of business done.
We would like to thank all the people who attended and made the event what it was. A special thanks from us go to Peter Halm who almost single handily organises these events in his spare time each year. We look forward to welcoming back all those who support us again this year, to our event in May 2016.