Now the fourth part of this kit is something which should change how you think about a whole range of thinking patterns. It will begin to pull back some of the chaotic thinking that goes on and replace it with simple thinking structures.
It is a process that teaches you some things, but most of which you will have learnt before… However, what's different is you will suddenly be able to apply what you previously learnt. 
You will feel like you've found the magical missing piece of the puzzle which you probably feel you've been looking for. 
I can tell you now, that you have… However, the best thing is for you to reach that conclusion by watching your mind as it continually attempts to tell you that you haven't… 
One thing you should know… This is not a one time read or listen to…
Over the next few months I'll be telling you to read or listen to a few minutes of it a day. I'll explain why later on, as right now it may sound wrong to you. However, it will be your choice whether you do or not…
If you do not you will be sure that it would've made no difference and you will probably feel that those saying it's making a difference are either delusional or not that smart…
However, if you do decide to keep going through it, then you will feel your consciousness rising and you will see all sorts of results…
But it is of course your choice what you'll do. And it's also going to be down to how many of the distractions your mind sends you, that you are able to avoid. 
You'll see what I mean by that as you begin to notice the distractions come!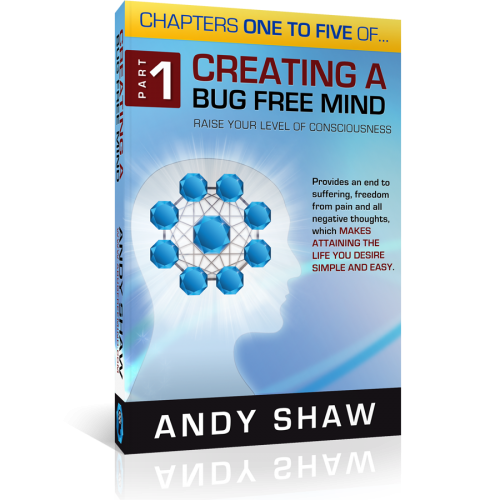 Simply Click on the Book Image Above,
to open up the pdf file of the first 5 chapters of this phenomenal book
NOTE: Over 251,509 people have already downloaded these free chapters. And 91% of those people
WHO READ THEM experienced such dramatic changes in their thinking that they felt they
HAD to buy the buy the books.
What will Creating A Bug Free Mind do for YOU when you read it?
Click on the book image ABOVE to find out!
Is Book Reading not your best learning style?
Then would you prefer to download and listen to the 1st 5 chapters instead?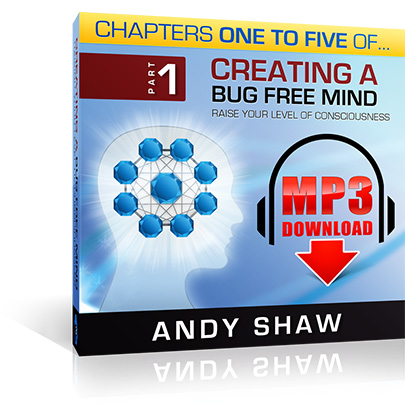 Click Here to access them now
Have an opinion on these 5 Chapters? Please share it with us below.
We care about what you think! 
A little information on this A Bug Free Mind Process
Why are people in nearly 140 countries using A Bug Free Mind to dramatically change their thinking & alter their entire experiences of life itself?
Why is A Bug Free Mind used by doctors, scientists, students, designers, architects, athletes, actors, diplomats, authors, politicians, traders, business people, professionals and even super models who say, 'Going through this structured thinking process helped them achieve their biggest ever breakthroughs?'
Why do 97% of all A Bug Free Mind students (according to published surveys) claim that A Bug Free Mind is delivering for them (when no other personal development book or course…  ever has before?)
Because…
The Bug Free Mind Process provides the 'missing piece' not contained in any other personal development system.
The missing piece is…
As a society, we've all been taught WHAT to think - WHAT to memorise … But… We've never ever been taught: not by our parents, not in school, not by our friends not by anyone …
… HOW to think in a structured way to consistently produce the outcomes in life we desire…
It quite simply has never been taught.
Sounds so obvious when you think about it doesn't it?
You see, we've all been born with these powerful minds, capable of creating EVERYTHING we've ever dreamed about. But the problem is; we've never been taught how to use it accurately. 
It's like we've been given the keys to a Ferrari, but never being taught how to drive the darn thing!
When I discovered this and the fact that we are all NATURALLY SUCCESSFUL (that's everyone, including you!)…
I realised, that I could teach people how to think and create a VERY SIMPLE language for their minds which produced the desired result everytime. So that everyone could become successful again as they once were…
It works for everyone in just the same way, no matter what race or religion you are…
If you want to be a better Christian, it will make it easy for you!
If you want to be a better Muslim, it will make it easy for you!
If you want to be a better Businessman, it will make it easy for you!
If you want to be a better Parent, it will make it easy for you!
If you want to be a better Doctor, it will make it easy for you!
If you want to be a better Athlete, it will make it easy for you!
If you want to be a better Actor, it will make it easy for you!
If you want to be a better Student, it will make it easy for you!
If you want to be a better (insert your desire), it will make it easy for you!
How Does The Structured Thinking Process Work:
Creating A Bug Free Mind works first by taking you on an enlightening journey into your mind; where you'll finally meet the "little ego saboteur" that's been causing all your pain so far in life.
You'll then discover how to create an impregnable 'force field' into your mind, so that negative thinking can never return. It's at this point where you gain the ability to bring in what the Japanese call 'Satori' or what we in the 'Bug Free Mind Community' simply refer to as 'No Mind'.
'No Mind' is a state where you literally think of nothing. No thoughts of any kind!
Once this state has been achieved and all the bugs and societies programming has been removed from your mind then you'll then you'll have regained full power over your mind once again; and restored the natural success mindset you had when you were a child … when you first learned to walk!
This A Bug Free Mind Process has the highest success rate for creating dramatic 'life change' for its readers, of any personal development process in world today. (This is a big brag – Now here's plenty of proof)
If you doubt this, then that's why I've made part 4 of this Structured Thinking Starter Kit available to you… As you go through it, you'll find your own results will convince you that what I say and what all the testimonials say is true…
Choosing To Live Up To Your True Potential…
Can you Imagine how it'll feel…
To never worry again?

To always feel at ease?

To be in tune with everything around you?

To be able to activate 'The Law Of Creation' On Demand?

To feel full of boundless energy?
And…
To know your vision of success is becoming a reality?
Yes – you can live up to your true potential.
And surprisingly… It won't take years! …You'll see fairly instant results just by doing this Starter Kit course…
There really is a new, easy and extremely powerful method to bring more energy, determination, skill, intelligence, wealth, influence and self-confidence into your life – quickly and effectively.
With A Bug Free Mind You'll Discover - Your Richest, Most Radiant Self
Are there specific areas in your life where you'd like to make a change?
Would you like to improve your career prospects?

Have more fulfilling and joyful relationships with your loved ones?

Improve and maintain your health?

Heighten your creativity?

Eliminate destructive thought patterns like 'depression, worry and overwhelm forever?

Defuse anger and anxiety?

Heal hurts from the past or tap into your higher intelligence easily?
If you want any or all of these, then The Bug Free Mind Process will show you how to make the changes quickly and easily. 
What Is The Secret To The Bug Free Mind Process & How Will It Benefit You?
The secret to this process is that rather than attempting to 'cram' new ideas into your mind. (Which is what happens with most educational programs in the world)
The Bug Free Mind Process works by allowing you to 'unravel' the bugs in your mind, so you can once again SEE the real 'YOU' your ideal self, the truly creative, loving, serene, and successful person you were meant to be.
Listen, I know you may have read hundreds of personal development books before. So I don't expect you to 'believe me' right now.
I know the pain you may have endured from being given great information from teachers who for some mysterious unknown reason 'can't get you to apply it' in the past.
And this is the reason why I gave the first 5 chapters of the process as the 4th part of this course…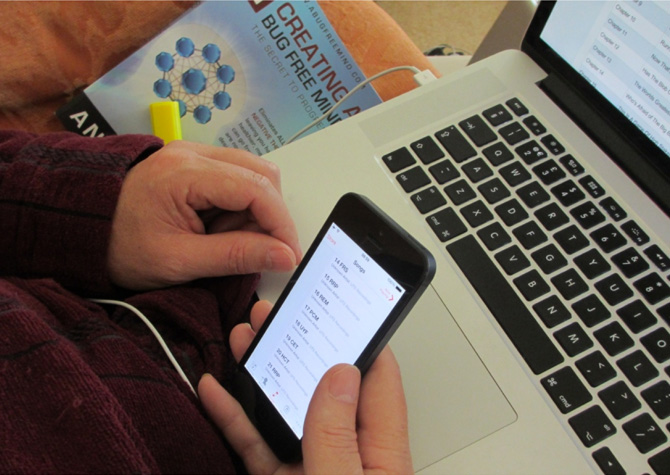 These 5 chapters alone, will help you experience so many breakthroughs it will amaze you.
As A Bug Free mind reader Susan Beesley described it:
"…They will become the classics of the 21st Century and impact on people's lives just as Rich Dad Poor Dad"
"I started reading the (Creating A Bug Free Mind) 5 Chapters as soon as I got them but couldn't finish them all in one go. I ended up waking up in the middle of the night to read the rest because it had such a profound impact on me. I can't wait to get the books and truly believe they will become the classics of the 21st Century and impact on people's lives just as Rich Dad Poor Dad."
Susan Beesley
Or as John.T from Sweeden put it:
"Now I look forward to each end every day and I can´t wait to "help" as many as possible to wake up and think."
Creating a bug free mind contains all the missing parts – yes it does. I have been totally scanning all the spiritual market and even if a few knows a tiny bit of how to teach, most of the "gurus" are far from good at what they promise to deliver. After attending a couple of Quantum physics seminars and after reading creating a bug free mind 4 times everything is changed!! Now I look forward to each end every day and I can´t wait to "help" as many as possible to wake up and think. I think therefore I am as Descartes said has never been more true! Now it´s up to all of us to USE our thoughts in a productive way. Thank´s Andy for a life-changing experience. John
Click here for a more detailed video explanation of the Process and how I created it:
Or Click here if you want to get started now:
Best wishes,
Andy