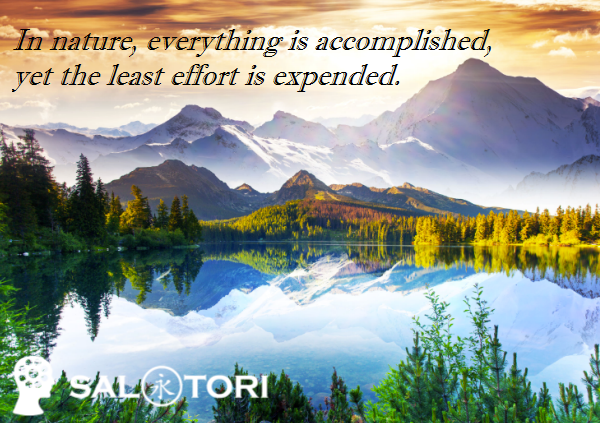 One of the projects I'm teasing along at the moment is something MASSIVE, I won't go into details right now but it is something that is so big that to apply any sort of force will probably mean it never will work… In fact it's almost impossible…
So what we do is use one of the key laws of the Universe to aid us, not just in BIG projects, but in everything we do… Below I have for you just a taste of how to do less, yet create more…
I know it will go against the grain, because of the social conditioning we have been given… But if you are fed up with working hard and not getting very far, then today you may learn how to get more done, with a lot less effort.
However, to begin with… I suggest you consider the way nature works as opposed the way we have been trained to work…
– Nature works achieving everything but using the least possible effort…
– We humans are trained to think we must work hard to achieve anything…
However, I'd like you to consider the possibility that instead we can work like nature does and use a lot less effort…
Since I learnt to do this, I have accomplished much, much more, with much less effort…
So consider, do you think it is possible for you to achieve more by doing less…
No need to answer, just observe your ego as it tells you that it's not possible…
§
Below I have a video for you which is taken from the Saltori Video accelerated learning course.
Now this video conveys a lot in a very short period of time, so you may want to pause now and practice a little stillness before pressing play.
It is taken from one of the later sections of Part 1 of The Bug Free Mind Process which covers one of my favourite things to teach… Which is about creating more but doing less…
I've added all of the course consideration notes below it, so you can experience what one of these videos is like.
What I suggest you do is first watch the video, it's approx 6 minutes long.
Then the real treat is to study the consideration notes… You will find the video educational and probably useful, but watching it on it's own will not create the progress…
Whereas when you consider the items below the video, you will be changing the way you look at things and changing your results because of that.
Let's get going…
***TAKEN FROM THE COURSE FROM HERE***
Video Notes – Some things to think about

I recommend you watch this video through once – there is a lot to think about in this short video. Then read the notes underneath the video for how best to use this video in conjunction with the training guide below to get the promised result.
Things to consider…
Watching that video on its own is worthless…
The trouble with hard work is that you are stating to the Universe, please give me more hard work… So if you are after massive progress then you have to learn to not work in a hard way. Work should be carried out in a workman style way, the way nature works. Everything gets accomplish yet the least effort is expanded… Though changing to working this way when we have been indoctrinated with the fallacy that hard work and more hard work is the answer, can be tricky…
Consider, could the idea that it takes hard work and monumental effort to achieve greatness, or to get what we 'want', be yet another false 'belief' system which we have put into our society and has been taught to us from the cradle as the way it is…
Consider, the way it is, is actually the harder you work then the more hard work you desire…
Consider, you are telling the Universe you desire more hard work, so of course you get more hard work.
Consider, all creation is done in the mind, that's where the hard work takes place which produces the greatest effect.
Consider, it is far, far harder work to create poverty, disease, and disharmony than it is to create wealth, health, harmony, happiness and abundance… How does this make you feel…
Consider, perfect health, perfect harmony, total happiness and abundant wealth are just the natural order of things. To create lack is to go against the way it should be…
Consider, simply deciding what you desire, knowing you have the ability to get it, letting go of exactly how and when you will get it…
Consider, you should fully expect what you desire to come to you but you should not expect it to happen in a certain way…
Consider, you will get your desire, but if you are too set on the way you will get what you desire, then these very expectations will limit the way in which it can come to you…
Consider, you must let go of the result and let it be free to come to you in whichever way it desires to…
Consider, choosing to remember that if you desire something, then it desires you too…
Consider, when you have decided your desires, you must give them up. This is essential to success as you give them up and let your creative – subconscious intelligence take over…
Consider, your subconscious mind will bring your desires to to you in the perfect way and in the perfect time if you allow it to…
Consider, asking yourself often, "am I helping or am I just getting in the way?"
Consider, this for at least a while… "If you don't know what to do, then don't do anything!"
Consider, give the problem consistent thought until your emotions propel you to take action… This is active procrastination.
Consider, too long in the active procrastination stage means you are not thinking about what you should be doing…
Consider, as an essential part of this whole process is taking action, just let your emotions push you in the right directions… Consider, your mind will lie to you – your emotions will not.
Consider, if you desire complete satisfaction in life this can easily be achieved if you can obtain the ability to give up your perception about the way things should be before you experience them.
Consider, we only become unhappy when our concepts or pictures of what life should be like don't match up with the way things are…
Consider, for complete satisfaction stop judging how things should be before you experience them, and just experience them… Can you do this, do you do this…
Consider, your ideas can come to you at any moment as long as you are present and in touch with your subconscious self…
Consider, your subconscious knows what's best for you so relearn to be guided by your own instincts.
Consider, you can go now and look forward to whatever happens to you… whatever slows you down… as these will ultimately end up having been sent to help you… How do you feel about this?…
Consider, you should be grateful even for the obstacles which slow you down because guess what?… They are there to help you, they have been sent to help you to learn, so learn from them…
Consider, if you do not learn the lessons then the message will just have to be sent to you again.
Consider, you can now forgive yourself for being where you are in life… After all if it hasn't happened yet then it wasn't supposed to!
Consider, you must be conscious of the fact that the people you 'need' will come to you at the right time and in the right way… Do you feel this is right, or do you doubt it…
Consider, learn the lessons quickly when they come and move on.
Consider, the right direction for your life will always be revealed to you if you learn to fully trust your instincts.
Consider, just what effort did you use to trust your instincts? None, you used no effort. Consider, you use more effort not trusting your instincts…
Consider, nature again, all gets accomplished yet the least effort is expended…
Consider, observing more closely the things that get in your way, they are being sent to help you…
Just imagine that, you live your life enjoying the work as you no longer work hard. The problems and obstacles are being sent to help you, not sent to harm you. Imagine what your life will be like if you begin to look at life in the way that everything that happens is being sent to help you. Your work is to uncover the meaning and the lessons behind what's happening…
Remember: The purpose of these videos is not to overwhelm you with information. They are there to guide you to the right way to think instead of the wrong way. You have been taught by schools to cram in information, however, your results will show you if you care to look at them that this does not work. So cramming will not work here. What will work is you disassembling your thoughts and almost effortlessly constructing new ways to think.
*** Please let me know if this proves helpful ***
***END***
I trust you enjoyed that 🙂
In the first part of the video course there are over 250 small videos designed to slightly shift your ability to succeed in life… If I added what people thought of the course (which you are never designed to finish) here, you would probably think I was making it up.
So I think the best way is to just experience it for yourself.
Best wishes,
Andy
P.S. Yesterday I sent out the link to the replay of last Tuesday's Livecast… A lot of people clicked it, but only about 1/3rd of people who clicked watched it…
How our minds work is it gets us to click something like this and then not watch it. This is a distraction technique to take you away from progress…
Clicking the link does not equal making any progress, only watching the recording will.
The passenger in our mind plays some very clever tricks, and this one works particularly well…
So here is the link again, for those who want to watch it, not just open it 🙂
P.P.S. There is just ONE WEEK LEFT of our ANNUAL SALE…
My purpose with all of these articles and free downloads I share with you is…
To give you results in advance.
To show you what dramatic improvements can be had from simply learning how to think instead of what to think...
If you think what I've already shown you has been powerful and has already helped…
Then you will be blown away when you begin the full Bug Free Mind Process and you learn how to structure ALL your thinking!
Because you really have not seen anything yet!
There is an abundance of power waiting for you to get your mind into.