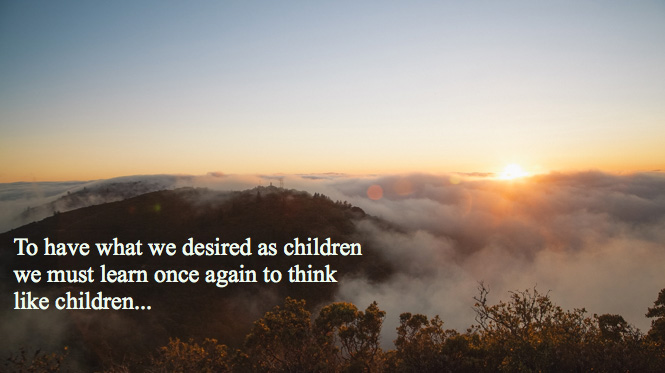 People ask me often can we really manifest and I answer them by saying that they are doing it now. However, this whole manifesting concept has been bent out of shape because of the way in which it's been taught.
However, not only can we, and not only are we manifesting… But when you learn and fully understand how to think like a child again then you really do have unlimited power to manifest your desires… That's IF you don't get in your own way!
Let me show you a real life example of just what our minds are capable of when we get out of the way and allow our dreams to manifest…
This is the story of how I manifested the Sultan of Brunei's Ferrari F50 in 2004… I don't share it to brag, after all I do not have this car anymore and today it's worth at least six times what I paid for it…
Let me start off by saying that EVERY WORD of this unbelievable story is true… And that I KNOW we ALL have this ability of thought, because we were all born with it… Though virtually all people have had it programmed out of them.
Here we go…
In 1996 when Ferrari released their F50 car, which was the follow on car from the famous Ferrari F40… I fell in love with the shape of the F50 – to me it was glorious!
Sure, it took a beating by car critics at the time, but I didn't care what they thought. I loved the look!
I would admire the car whenever pictures of it came up. I imagined owning a brand new one of those cars…
And every time I did, it excited me like nothing else!
I remember buying a car magazine and reading it on the way home from work one day…
I imagined what it would feel like to be driving a brand new Ferrari F50 off of the garage forecourt…
I imagined how good it would make me feel…
However, at the time I was still fitting windows for myself… I had a small company which employed a few people, but I was not rich and had no real idea of how I was going to become rich enough to buy such a car.
So most people would say I was wasting my time thinking about it, and I shouldn't be daring to dream because it was unrealistic, and that I'd just feel disappointed when I didn't get it…
Though I have fortunately never bothered with listening to those who didn't help me get what I wanted!
I wasn't thinking about getting the car, I was just showing my subconscious mind how good it would feel to own a brand new one of them… That's all!
Though a good point to always consider too, is, you must NEVER let your current bank balance be an indicator for what your future bank balance will be.
Now we skip forward 7 years into 2003 when I had made many millions and was considering buying all sorts of supercars… At this point I already owned a Lamborghini and a Ferrari.
I was chatting to the guy who owned the super car garage and I was listing out all the cars I liked… I said I really love the F50, but he told me that the Ferrari F50 only came in left hand drive, and there was only 349 of them ever made!
I was instantly disappointed as in my dream I had seen it as a right-hand drive, and I don't buy left-hand drive cars anyway…
So instantly I said, "well that's a shame as I only 'wanted' a right-hand drive one. I never imagined myself driving a left-hand drive one so unfortunately I won't be buying one of those!"
Well… here's where the magic started to show itself!
(Remember I planted the seed a LONG time before… and I was totally detached from the outcome! I just dreamed of owning one and took any step I could as it came up to go in that direction!)
Well a short while after having the conversation I got a very excited message from the guy at the garage with him saying…
"Call me – something unbelievable has happened!"
I called and he said…
…"I know this is totally impossible but you really will not believe this! After I saw you, I was speaking to a friend who imports cars and he is bringing into the country the only right hand drive Ferrari F50 ever made!"
I said, "Well, they didn't make any! You told me they didn't!"
And indeed this wasn't even recorded at the Ferrari factory, as we later found out and which is another story! Anyway, he went on to say…
"Well apparently you and the Sultan of Brunei have something in common. He 'wanted' a right-hand drive one too, so he had one made! It's coming into the country next week, are you interested?"
Are you kidding! I was on fire! And I simply said, "yes!"
We went and saw it, and I agreed to buy it… There were numerous issues, but I eventually had the car delivered the following summer…
So I had just manifested the only right-hand drive Ferrari F50 ever built!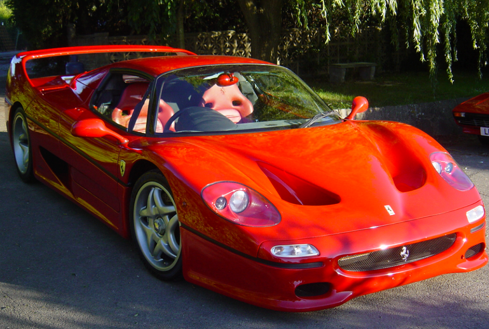 Magical stuff right?
But wait… It get's even more magical…
When the car showed up I saw that it only had delivery miles on the clock…
It turned out that the car, had never even been used by the Sultan! Effectively I had just bought a brand new car. This was eight years after I wondered how good it would feel to drive a brand new car away!
It was EXACTLY as I imagined it… Except I didn't need to go to a garage, they delivered it to me…
Imagine that, eight years after it was built, I got a brand new one!
Now I had dreamt of owning a brand new right hand drive Ferrari F50 in 1996 when I had no way of ever coming up with the money to own one.
Not only were right-hand drives not made! But I was able to get a brand new one eight years later after it was sold…
I even had to run it in!
Now you may want to slow your thinking down here as your ego may be fighting this and saying all sorts of things to convince you that I can do it, but you can't… So I suggest you think slowly.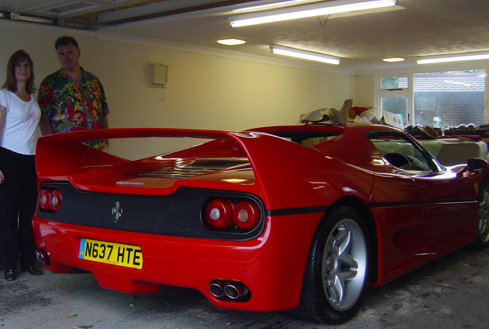 Consider this… If this doesn't demonstrate the unlimited power of what our subconscious minds can do for us, then you have to consider, will anything actually do it for you?
By all means, if you're a skeptic, you can keep on enjoying your skepticism; I'll enjoy continuing to order what I desire from life using just my mind…
We have to be careful what we choose to think…
I choose to think things which can help me, so the universe conspires to give me the things I dream of…
Consider, do you unconsciously choose to think things which harm you, and so allow the universe to conspire to give you things you don't want…
You may wish to consider this for a few days as it can provide massive progress in life if you can slow your thinking down enough to accept things as they are…
Now this example (and I have a lot of others) demonstrates the power of ordering EXACTLY what you desire!
However, if I had spent time considering if this was possible or not, then my adult brain would've very quickly concluded that I'd asked for the impossible…
However, because I only used my child like imagination, then I put no limits onto what was possible… I merely demonstrated to my subconscious mind what would make me feel good…
…And then thanks to the unlimited capacity for my subconscious mind to work, it filled in the blanks and conspired to get me exactly what I had ordered (what I 'wanted' to manifest).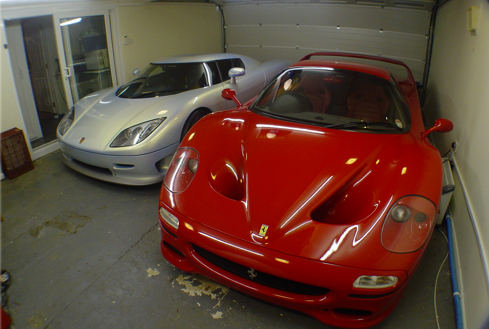 Magical stuff right?
So are you ready to get specific about what you desire so that you can stand in awe at the power of the magic you can do too?
IF so, then the FIRST thing you must do, is regain the natural success mindset you had a child.
You MUST go back to the time mentally when you 'KNEW' you could achieve amazing things.
Before you became 'tainted' by the beliefs you were conditioned into by your school system… or your parents… about what YOU can really achieve in life!
To experience a taste of this mindset you can download one or more of the free gifts I give away on the site. Or if you would just like to get started with my full structured thinking process, which allows you to once again think as the child you thought…
When you begin this process you will feel like you have finally found what you've been looking for… Because you have! Though I don't expect you to believe me just yet!
Though when you see I speak the truth, you will see changes almost instantly in your thinking ability.
Then once you've gone through this process and restored your natural success mindset… (And trust me, you'll know when you've done it, because you will feel amazing almost EVERY DAY for no reason at all!)… You will find you once again have the mindset you had as a child, where anything and everything is possible…
Can you remember how good it felt to think that way?
Just for a few seconds now I invite you to dare to dream that you could use your mind in exactly the same way too…
Just imagine, how many amazing things would happen do you think: if you suddenly KNEW…you really could have a Ferrari… or your perfect partner… or your dream home … or a fabulous lifestyle … or just financial freedom?
Ignore the voice in your head, and dare to dream as you once used to… If you can avoid doubt and too much thought, then you may too be surprised with what shows up!
Best wishes
Andy