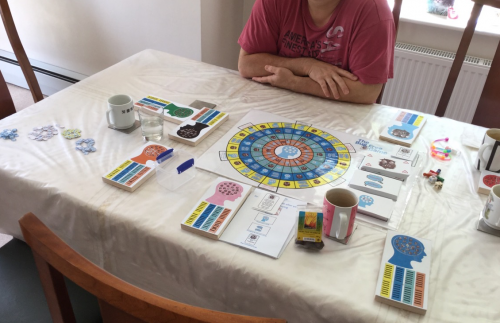 Last Friday almost everyone involved in creating the A Bug Free Mind board game got together for our 3rd playing of the game.
With each subsequent playing of the game less and less changes are needed, and now we feel after a few minor tweaks that it's ready to go to the designers.
So far it has been tested now on ages from 8 to 60, with the general opinion from a somewhat bias audience being…
"it's entertaining, gets a lot of interaction between friends and family, and helps to change thinking afterwards as life's situations come up."
And most importantly of all, "it's fun!"
The main emphasis wasn't to be on education, that wanted to be the effect but done so in an out of sight way. The main emphasis was for it to just be fun but at the same time relax the mental barriers to change. And I think it's done it very well.
In fact on Sunday we were sharing how the game worked with some friends from New Zealand, and were all laughing about what came out from the questions… Then the next day one of our friends gave an example of how it had already worked on her before she'd even played the game.
Which means it's really achieving what I wanted it to. Be fun, and be educational in a completely unseen way.
We reckon in about four weeks we'll actually have some images to show you, well maybe four weeks as we're not into deadlines on this. After that we'll get the prototype made and sort out all the legal issues.
Here's our business plan for it so far:
We think it's good enough to win some awards, so we intend to enter it into the 5 'Game of the Year' competitions that we've found. We're pretty sure it'll win one or more – which I think is very cool.

We currently think it's a game that isn't too educational based so can fit nicely into the 'Monopoly' type board game, with players we think from 8 up. So this means we will probably sell the rights to sell it to a major toy manufacturer and take a royalty of some sort. We'll still sell it, but as it is a mass market product not niche market, then we intend to use their distribution network

We are also intending to create a deluxe version of the game which is aimed purely at people who really buy into the concepts of Structured Thinking and A Bug Free Mind. The idea being it's the same game, just a lot more luxurious.

The game has been designed so that the first part is an awareness game. Then later there are two other games that come after it for those that love playing – which go further into the higher consciousness level without losing the fun element.

We've also already conceived add on packs and a kids/family edition too.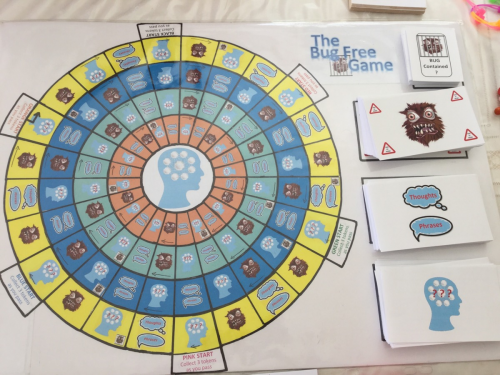 When we launch it, we are looking to produce a limited edition first run of the game for people who love the Bug Free Mind material. Which will probably be limited to between 250 or 500 (still to be decided).
These will come with some cool whistles and bells which will identify them as collectors pieces. Which mean if we go on to win Game of the Year should make them re-saleable if people don't like it for whatever reason.
The current loose timeframe plan is, that either October 2016 or February 2017 we'll do a one day launch event in the UK and invite/sell up to 60 places for people who buy the game. The idea being on the day we make it a special day, I'll do some presenting and explaining how to achieve an unrealistic goal or too. Or ask the attendees what they'd like me to cover.
Also on that day we'll explain the psychology behind how the game will work to subtly change the lives of the players… Doing so in a way that is supportive, not intrusive as it causes the player to apply a lot of self-reflection. But does so without them knowing it's working to help them.
Plus the guys behind the design who are Bug Free Mind students too, will then explain what they did to make the game work. From concept to first editions. Then we'll present the people in attendance with their games. Plus we will also play the games and have a little tournament with prizes for the winner, second and third places.
So we're really looking forward to it being ready now and are pretty sure if you like board games them you'll love this.
I'll be back with another update soon.
Best wishes,

Andy
P.S. If you'd like to be one of the people who come to that one day event then feel free to let me know below and when it's ready I'll make sure you get first options on being there.